Blue Tansy essential oil, scientifically known as Tanacetum annuum, is a well-appointed natural oil that is admired for its enchanting fragrance. The oil is obtained from a common Moroccan weed in the daisy family. Similar to bergamot essential oil, blue tansy oil is also a significant Qi regulator.
However, it presents some difference. The oil is as well referred to as blue chamomile or Moroccan blue chamomile. It is extracted from the flowering aerial parts of the plant by steam distillation, and it has a rich blue hue and a fresh, sweet aroma. This oil is often confused with common tansy, but the former produces an essential oil with different chemical composition.
Chemical Composition
According to research, the chemical composition of the essential oil of blue tansy consists of forty three compounds. Research states that alpha-phellandrene, p-cymene, betapinene, camphor, and sabinene are the major components. All the elements combined form more than 60% of blue tansy oil chemical composition.
Therapeutic Properties
Anti-inflammatory
Stimulant
Analgesic
Vermifuge
Antibacterial
Sedative
Antidepressant
Expectorant
Antihistamine
Antimicrobial febrifuge
Antiviral
Blue Tansy Essential Oil Uses
Treating Injuries & Infections
Blue tansy oil is antimicrobial and antibacterial. Therefore, it is useful for treating injuries and infections. You can apply a dab of a diluted version of the oil on an insect bite, burn or cut for quick relief. Apart from alleviating the pain, it stops and prevents infection.
Managing Allergies
If you suffer from seasonal allergies, then you know how scary spring can be. It is during this period when the flowers are in bloom, and the pollen count rises enormously. The worst part about the seasonal allergies is that the routine is the same one year after the other.
Tanacetum annuum oil has natural antihistamine qualities that are really helpful during spring. The oil reduces your body's histamine response to seasonal allergies. The oil achieves this by treating allergy symptoms, including: sneezing, irritability, wheezing, fatigue, nasal congestion, itchy skin, coughing, itchy throat, watery eyes, and runny nose.
Arthritis Treatment
Arthritis is an umbrella terminology that describes a collection of symptoms with several potential causes. The most noticeable symptom of the disease is inflammation of one or more body joints. Along with inflammation, the universal indicators are pain and stiffness.
You can naturally manage all these symptoms with the use of blue tansy oil.
The oil has anti-inflammatory effects, which are helpful for relieving joint inflammation, pain, and stiffness. You do not have to subject yourself to constant consumption of over-the-counter medication, if you have Tanacetum annuum oil.
Skin Care
Skin care is one of the leading blue tansy essential oil uses. The anti-inflammatory, anti-fungal, antibacterial, antimicrobial, and relaxing properties are important for skin care. Dilute the oil with an appropriate amount of jojoba oil to create a skin healing treatment that you can apply on an insect bite, blemished/ inflamed/ irritated/ red skin, and acne. Irrespective of its relaxing qualities, you are advised to do a patch test prior to applying blue tansy oil on your skin.
Blue Tansy Essential Oil Substitute
Tanacetum annuum oil is a rare commodity, and sometimes you may be forced to settle for a substitute by its short supply. Artemisia arborescens is a good replacement for blue tansy oil. Usually referred to as great mugwort, it has a sweet aroma, like blue tansy oil. It a reliable remedy for pain, inflammation, and bruising. Another reliable blue tansy essential oil substitute that you can consider is Roman chamomile oil, which is extracted from the flowers of Anthemis nobilis. This oil has a fresh, soft, herbaceous fragrance with apple undertones. It is an anti-inflammatory, antibiotic, antimicrobial, antiseptic, febrifuge, vermifuge, tonic, relaxing, and sedative.
Apart from the aforementioned substitutes, Tanacetum annuum oil blends well with the following natural oils:
Bergamot essential oil
Ylang-Ylang essential oil
Cedarwood essential oil
Yarrow essential oil
Frankincense essential oil
Ravensara essential oil
Lavender essential oil
Rose essential oil
Marjoram essential oil
Rosemary essential oil
Orange essential oil
Patchouli essential oil
Palo Santo essential oil
The Confusion between Tansy (Tanacetum vulgare) & Blue Tansy (Tanacetum annuum) Essential Oils
Blue tansy is confused with common tansy over and over again. However, the former produces a natural oil that is totally different chemically, since it does not contain high amounts of chamazulene. This is what makes Tanacetum annuum appear dark blue in color, hence the name blue tansy. In spite of assertions by some con dealers of natural oils, who taint the very expensive organic blue tansy essential oil with much cheaper oil from Tanacetum vulgare. You should know that the essential oil from Tanacetum vulgare is not blue in color, since it does not contain chamazulene. Beware of frauds when shopping for Tanacetum annuum oil.
Blue Tansy Essential Oil Safety
Organic blue tansy essential oil is generally non-toxic and non-irritating, but a patch test is necessary. The oil presents its strongest effects when a maximum dose of 4% is not exceeded. By default, essential oils are discouraged during pregnancy and nursing. In addition, common tansy is known to have negative effects during pregnancy. Regardless of the fact that blue tansy is not obtained from the same plant as common tansy, you are still not advised to use it when pregnant or nursing.
Always consult your physician or aromatherapy specialist prior to using any essential oil during pregnancy and lactation
Blue Tansy Oil Recipes
Recipe #1 – Valor Blend Oil
Valor oil is a good emotion stimulator, which instills positive emotions. The moment you use the blend, you start oozing with self-confidence.
Ingredients:
12 drops of blue tansy oil
14 drops of sweet almond essential oil
30 drops of spruce essential oil
2 drops of balsam fir essential oil
Rosewood essential oil
14 drops of frankincense essential oil
Preparation & Applications:
Obtain a clean, airtight, dark-colored, 5 ml bottle. Then add all the ingredients in the bottle, and shake well to mix. You can add the blend to aromatherapy diffusers, use it in a steam inhaler, or apply it over your body. The mixture's emotional and physical effects keep stress and anxiety at bay.
Recipe #2 – Personal Inhaler Oil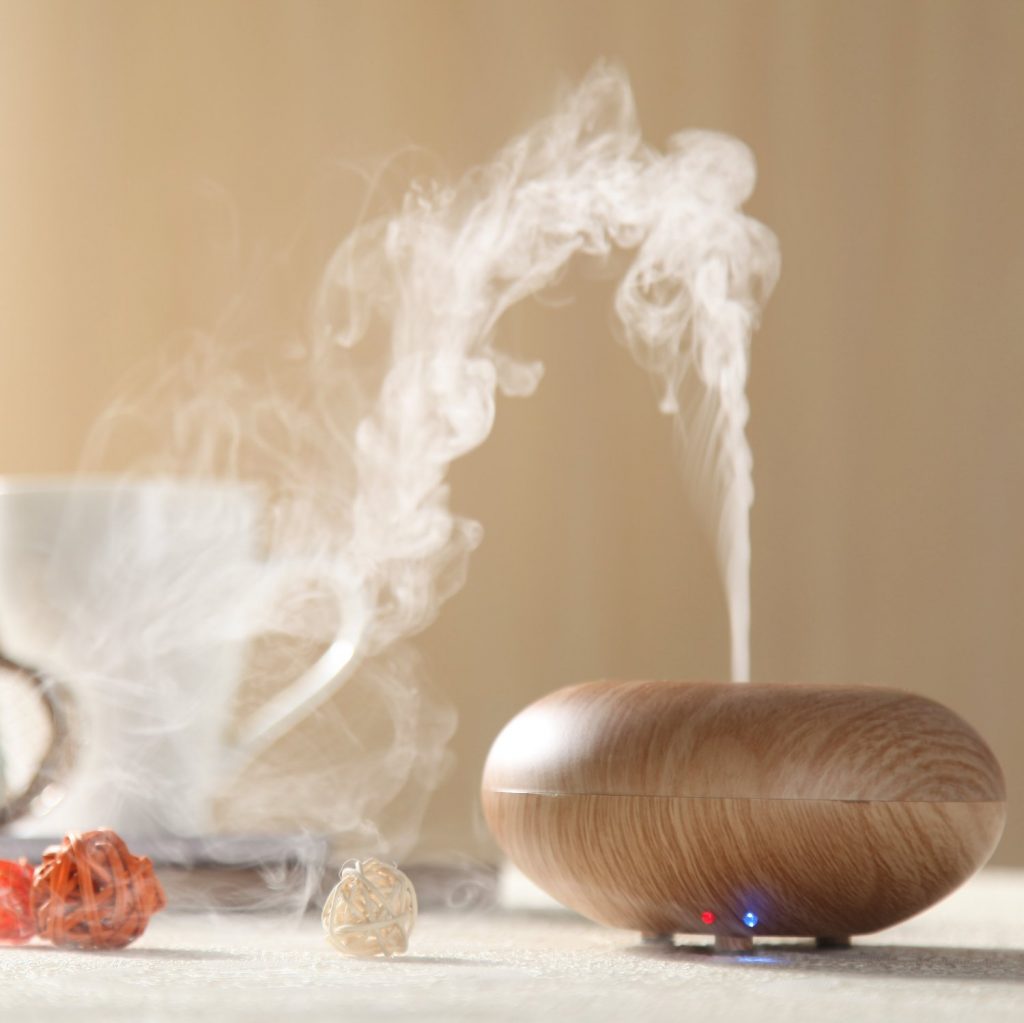 Ingredients:
8 drops of blue tansy oil
8 drops of jojoba carrier oil
Preparation & Applications:
In an airtight dark-colored bottle, add the blue tansy oil and jojoba oil, and mix. Add the blend to an aromatherapy diffuser or soak a clean piece of cloth and breathe directly from the cloth.
Recipe #3 – Muscle Massage Oil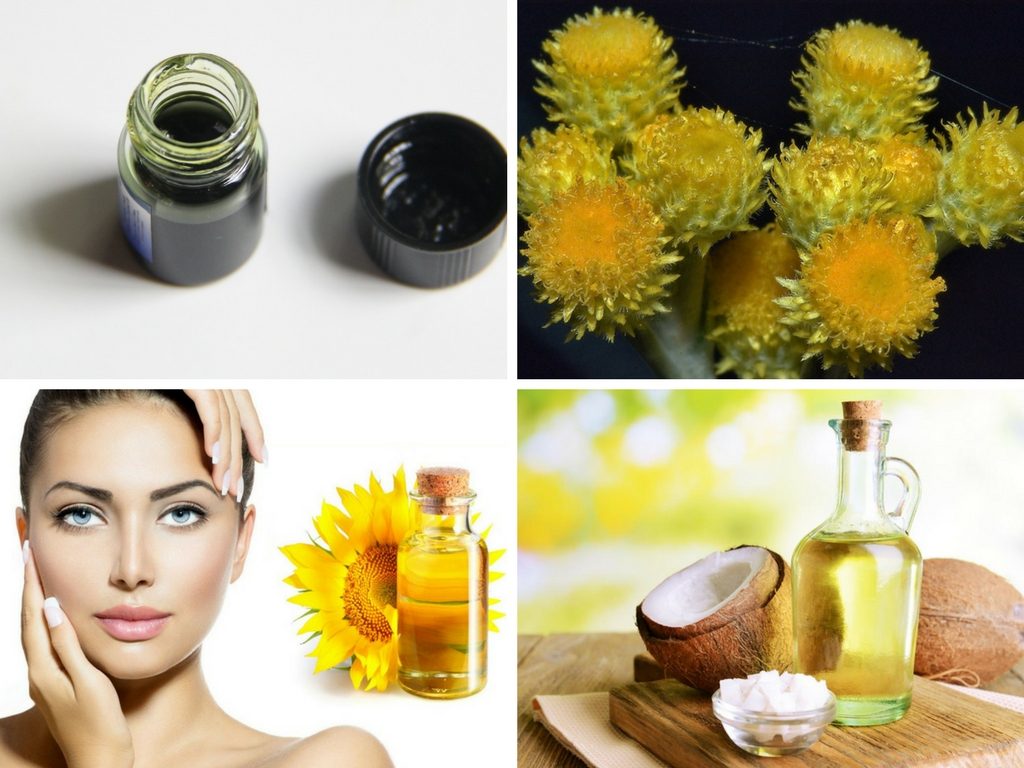 Ingredients:
3 drops of blue tansy oil
1 tsp. of vitamin E oil
5 drops of Helichrysum essential oil
2 tbsps. of fractionated coconut oil
Preparation & Applications:
In a clean ceramic bowl, add all the ingredients and stir to mix. Use the mixture to massage the affected parts of your body. You should do a patch test before using this blend on your skin. The anti-inflammatory and relaxing effects of the essential oils will ease the pain.
Recipe #4 – Calming Massage Oil
Ingredients:
3 drops of blue tansy oil
2 drops of fir needle essential oil
2 drops of lavender essential oil
1 tbsp. of jojoba oil
Preparation & Applications:
In a clean ceramic bowl, pour all the ingredients, and stir to blend. Then use the mixture to massage your neck, upper back, and shoulders. The massage will relax your muscles and alleviate any aching muscles.
Recipe #5 – Joint Pain Massage Blend
Ingredients:
5 drops of blue tansy oil
5 drops of yarrow essential oil
5 drops of blue cypress essential oil
5 drops of German chamomile essential oil
1 ounce of carrier oil
Preparation & Applications:
Add all the ingredients into an airtight glass bottle, and shake to mix. Apply the mixture gently to painful joints for quick relief.
Recipe #6 – Soothing Anti-Inflammatory Lotion
Ingredients:
4 drops of blue tansy oil
6 drops of frankincense essential oil
6 drops of Helichrysum essential oil
8 drops of lavender essential oil
1 ounce of unscented lotion
Preparation & Applications:
In a clean glass bottle, mix all the ingredients. Then add the mixture to the one ounce of unscented lotion. Gently apply the blend to inflamed body parts.
In Conclusion
In addition to the healing properties and uses of blue tansy oil, it possesses an inviting fragrance that is important for relaxation. One of the most notable qualities of this amazing oil is its antihistamine effect, which makes it an important natural remedy for seasonal allergies during spring. Moreover, blue tansy oil is non-toxic and non-irritating for skin care. As far as blue tansy essential oil safety is concerned, you are urged to avoid this oil during pregnancy and lactation.
Sources and References
Wikipedia Tansy