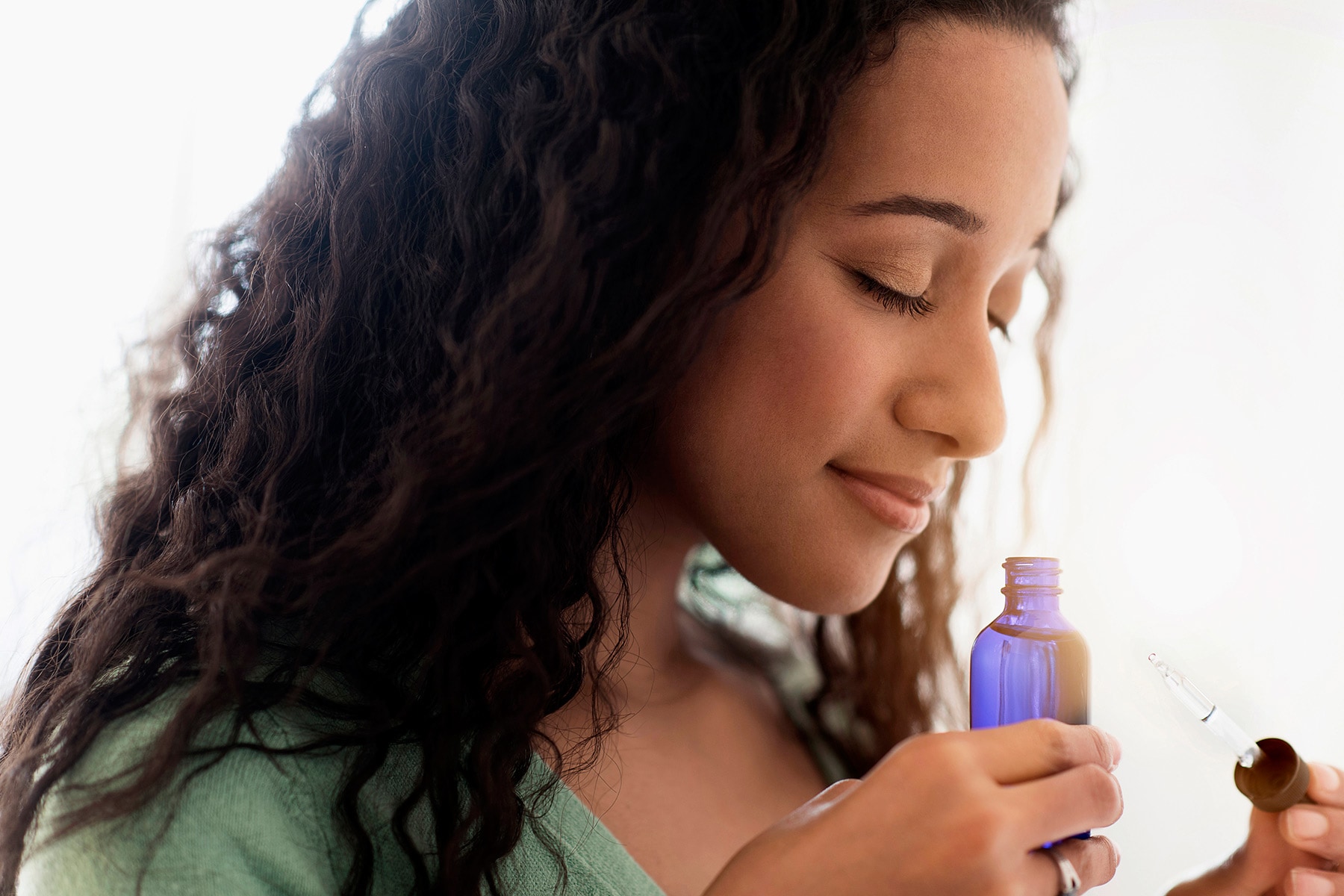 Naturally, curly-haired ladies should think of themselves as the luckiest in the world because of their hair's fantastic structure and appearance. However, taking care of such a valuable piece might be complicated, but countless goods, including the best essential oils for curly hair, would help you out.
From essential oil-infused shampoos to made-at-home coconut oil restorative conditioning, incorporating oils in your hair care routine is the latest trend. Those aren't, however, totally new. Oils have been used for medical and cosmetic purposes through generations. Many shampoos, lotions, and other hair care products nowadays feature them. You also might prepare your own hair care remedies with essential oils.
Essential oils starting to be used by an increasing number of ladies to improve their hair condition. These essential ingredients are rich in nutrients that can help you build thick, long, and healthy hair. Whether you're trying to avoid chemical compounds in hair care products or just want to try new things, essential oils are a wonderful way to go.
Why curly hair needs essential oils?
One most common complaint among naturally curly people would be that their hair is typically dry. Since the oil produced by your skin can hardly reach the ends of your ends, your curled hair tends to dry. It's much more difficult to maintain your hair's moisturizing from roots to the ends with that many curls and twists in the process. That's why, in order to keep beautiful curls glossy and strong, you need to use essential oils for curly hair in your daily routine.
However, choosing the finest ones might be difficult. But do not worry about it! We researched and listed some of the finest to boost the appearance of your magnificent curls.
Best oils for curly hair and their effects
Essential oils for curly hair's main purpose are to keep your hair strong and lustrous. And, because rubbing hair oil into your head moisturizes your scalp and hair, oiling is the greatest way of maintaining your locks, especially if they are thick and curly.
A few of the best essential oils for dry, thinning natural curly hair that you may use are listed below.
1.     Argan oil
Argan oil, often referred to as liquid gold, is produced in Morocco from the pure seeds of the argan tree's fruits. Through generations, unrefined argan oil is being used in culinary and as a homemade medicine for wellness and beauty issues, especially hair growth. It's now used in a variety of hair and skin treatments and products.
Argan oil is high in fatty acids and effective antioxidants including vitamin E, which have also been proved to improve the condition of the scalp and hair.
Many hair-care enthusiasts recommend Argan Essential Oil from Beaver Brook Store as it is not only gives them glossy hair but also improves their sleeping patterns and relieves stress.
Which effect to expect:
Argan oil is an excellent moisturizer for the scalp and hair. According to a few researchers, the fatty acids in argan oil can help maintain a healthy, moisturized epidermis and eliminate and heal hair damage.
Argan oil should be used on dried, curly, fragile, or fine hair and has been shown to improve hair and scalp health as well as prevent hair loss and thinning. Vitamin E, which is prevalent in argan oil, has been confirmed to promote rapid hair growth.
2.     Coconut oil
Coconut oil is frequently advertised as a superfood and is among the most effective hair and skin oils known. This pure oil has a high concentration of healthful fatty acids. Many women use it to enhance the well-being and looks of their hair and skin for aesthetic reasons.
Which effect to expect:
It will soak deeply into your scalp and locks without diffusing. Nutrients, vitamins, and proteins are also all discovered in coconut oil. The study has shown that oil can shield your hair from UV rays, stimulate healthier hair growth, preserve moisture in your hairline, and minimize hair loss. The oil also has a wonderful fragrance that will make your hair smell delicious.
3.     Jojoba oil
Jojoba oil is a viscous oil made from the kernels of the jojoba plant, which originates in the desert areas of Arizona, California, and Mexico. It's very versatile, with far too many applications in the world of cosmetics for us to list. It's in a lot of hair, body, and nail care treatments.
Which effect to expect:
Jojoba oil is another one of those oils that can transform your mane into something magical! It contributes to the treatment of dandruff, improving hair growth, and preventing hair loss. It's well-known for being a hydrating ingredient in both skin and hair remedies, as well as having an overall calming effect.
4.     Rosemary oil
Rosemary is among the most used herbal remedies. It contains a lot of anti-bacterial and calming effects. It can contribute to the maintenance of natural shine and health in a wide range of hair types, including curly hair.
Essential oils from the herb are believed to deliver anti-inflammatory effects, increase nerve regeneration, and improve circulation.
Which effect to expect:
Some people are successfully using rosemary to stimulate hair follicles. Using rosemary essential oil may indeed be able to help you get the same outcomes. Both science and personal observations highly suggest that the essential oil can help prevent hair loss, especially that caused by male or female hair thinning. It could even help with alopecia.
5.     Jasmine oil
Jasmine oil has traditionally been connected with hair care, particularly for dry scalp. Jasmine oil acts as an emulsifier, locking moisture into the epidermis. Emulsifiers are especially beneficial for those who suffer from fine hair, which could be caused by a variety of factors including climate and scalp conditions.
Which effect to expect:
When mixed with carrier oils Jasmine oil is massaged into a dry scalp, it promotes nearly immediate moisturizing and often results in dandruff elimination.
Also, it is proven to have a soothing and sedative effect, thanks to odor components of the flower that impact the nervous system.
6.     Geranium oil
Geranium oil is a common component in fragrances and pharmaceuticals. Aromatherapy gurus use this essential oil to cure a variety of health problems. It has antioxidant, bactericidal, anti-inflammatory, and antifungal effects.
Which effect to expect:
This oil is ideal for itching and hypersensitive scalp. If you plan to grow out your thick and long curly hair, it could be your best friend. The geranium essential oil also has a soothing quality and can significantly reduce anxiety, induce calmness, and ease symptoms of depression.
7.     Lavender oil
Lavender oil, believed to be one of the ancient essential oils, maybe simply mixed with curly hair conditioner or shampoo for a delightful aroma. The oil also improves the hair cuticles and overall hairline health. It is also excellent as a fragrance for curly hair locks, making them fresher for an extended period of time. The best choice of lavender pure essential oil is the one from the HIQILI brand, which is produced in India and has a lovely concentrated floral smell.
Which effect to expect:
The lavender essential oil has gained popularity thanks to its ability to boost hair growth. Additionally, the oil will strengthen your curly hair and make it fuller and thicker.
8.     Tea tree oil
Tea Tree oil is among the best essential oils for curly and wavy hair. This is really a purifying and cleansing oil made from the leaf of the tea tree.
Tea tree oil is commonly used to control dandruff levels and is one of the most powerful allies in maintaining healthier hair. It scents fantastic and can help various curly hair types to maintain a smooth and solid structure.
Which effect to expect:
Insignificant amounts of dissolved in carrier oils tea tree oil applied down the root of the hairs will help reduce the risk of chemicals and dead cell accumulation. This will keep your hair healthful and hydrated, allowing it to grow at a regular speed and prevent it from falling out.
9.     Ylang-ylang oil
Ylang-ylang oil is a variety of natural oil recognized for its delicious scent. The oil works well as a conditioner and moisturizer. Since it boosts the production of sebum and helps to keep the locks hydrated and nourished, ylang-ylang oil is perfect for those who have dandruff and dry skin.
Which effect to expect:
Routine use of this essential oil for curly hair also helps in preventing split ends and hair thinning. It is also a good essential oil for improving hair growth and can be used as a treatment for fine and thinning hair. Moreover, ylang-ylang oil can help decrease anxiety levels, making it a must-have on days when you are feeling too overwhelmed.
10.     Neroli oil
It's also referred to as orange blossom oil. Due to the rich citrus scent combined with the intense floral fragrance, neroli oil is an excellent choice in treating scalp diseases caused by infections, especially in individuals with hypersensitive scalps.
Which effect to expect:
Neroli oil has still not been thoroughly analyzed, however, some data suggest that it may be effective for a number of conditions. It aids in the regulation of dryness and the decrease of dilated pores on your scalp. This oil will additionally hydrate your hair due to its moisturizing qualities, which promote cell regeneration and the maintenance of existing cells.
How to use essential oils for hair care?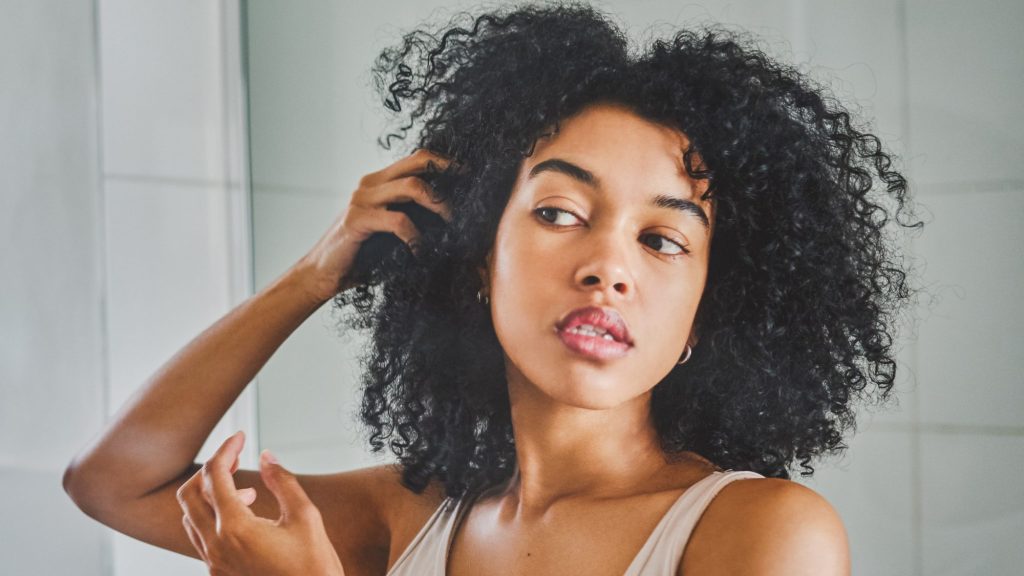 Essential oils are excellent helpers in maintaining the strength and health of your hair. Since essential oils are extremely concentrated, they are usually quite beneficial even in little quantities. It is important, though, to dilute essential oils with a carrier oil, such as olive or jojoba. The essential oils, when applied to the hair with a nutritious carrier oil, effectively lock moisture within damaged hair.
Lavender and geranium are exceptionally beneficial for dry hair since they naturally nourish the hair while also balancing the scalp's fat production.
Add 10 drops of essential oil to 2 teaspoons of enriching carrier oil, such as jojoba, coconut, or sunflower oil, and combine thoroughly. Pour into a container of shampoo or leave-on conditioner.
Or just blend 4-5 drops of a few desired essential oils for curly hair with the carrier oil of choice to make a nourishing serum for hair growth and strength. You could go to sleep with the serum absorbing into your hair overnight and then apply shampoo and rinse it out in the morning, or you may leave it on for 30 minutes and then just wash your hair as usual.
DIY recipe with essential oils for curly hair
Mask recipe from geranium oil for dry scalp:
To 5-7 drops of geranium oil, mix 2-3 tablespoons of carrier oil, two teaspoons of organic honey, and one egg. Combine with a hand whisk until the paste has a thick and smooth texture. Left it on for an hour or so and rinse. It is recommended to use non-sulfate shampoo to not damage your scalp with chemicals.
Ylang-ylang hair serum recipe:
For better effect, also add few drops of lavender oil into the mix along with 4-5 drops of ylang-ylang oil and mix with filtered water. Apply the mixture to your hair as a leave-on conditioner throughout the day.
Rosemary essential oil as hair strength and thickness remedy:
Mix 3-4 tablespoons of carrier oil, coconut or grapeseed, with 8-9 drops of rosemary oil. Apply on wet hair after washing it with shampoo and rinse after 15-20 minutes with warm water.
Tea tree essential oil recipe for dry scalp and damaged hair:
Few tablespoons of jojoba oil mix with aloe vera juice and 2 tablespoons of tea tree oil and apply on hair after shampooing and rinse after 15-20 minutes. Can be refrigerated.
Final thoughts
Curly hair has experienced a huge comeback in terms of style and hairdo choices. The days of trying to suppress your locks with heating devices and flattening chemicals are long gone. You can now enjoy your curls in their pure state.
Essential oils and head massaging may effectively promote hair growth in cases of scalp irritation or low blood circulation. Since essential oils are highly concentrated, always dilute them with carrier oils before rubbing them into the scalp.
Choosing the correct essential oils for curly hair of a specific type will strengthen the structure of your hair and will be the first step towards having healthier locks. Curly hair, on the other hand, requires exceptional care and attention since it holds less moisture than straight hair. This means that moisturizing is essential to maintain beautiful and smooth curl structures and eliminating puffiness.