People who face challenges when it comes to falling asleep often resort to using all sorts of means which are at their disposal. One proven way that helps people when it comes to relaxing and falling sound asleep is the use of essential oils such as lavender. In order for one to ensure that the essential oil works at its optimum, it is advisable to use an essential oil diffuser which evenly distributes the essential oil into the atmosphere as the user relaxes. PureSpa essential oil diffuser does this and much more to ensure that the user experiences peaceful uninterrupted deep sleep.
The PureSpa essential oil diffuser runs for up to seven hours without need for refilling. This means that it can work throughout one's sleep period. When the water tank runs dry, the diffuser shuts off automatically. This provides safety and convenience to the user as one does not need to get up to shut it down and electrical faults are avoided. To ensure that the diffuser operates at its maximum capacity, one should use high quality essential oils and caution should be taken not to use greasy oils that can clog the diffuser.
Features of the PureSpa deluxe essential oil diffuser
The diffuser is very easy to fit as it can easily be placed on various surfaces which are convenient to the user such as tabletops and dressers. It is also small in size which makes it possible for the user to move it around to where he or she wishes to use it.
The water tank in the diffuser has a capacity of one hundred milliliters of water. This allows the diffuser to work for a long period without running out of water.
The diffuser emits a cold mist and it does not interfere with the composition and properties of the essential oil. The mist has a cooling effect in the atmosphere which enables the user to sleep in fresh atmospheric conditions.
A constant mist is released into the atmosphere. This enables a constant diffusion of oils in the atmosphere, ensuring even distribution of the scent in the air. One can also opt to have an intermittent mist depending on one's needs. The strength of the scent is also in the control of the user as one can regulate it based on the number of drops of the essential oil that one puts into the water tank.
The diffuser has a sixty-day guarantee. This enables a user to return the diffuser within sixty days so as to get a refund if one is not pleased with the product.
The sleek shape of the diffuser blends in well with different types of decor and it is an attractive addition to a room.
The diffuser has five different lights which change from time to time, creating a lovely scenery. One has the option to turn them on or off as the mist is released. For people who love sleeping with lights on, these lights would interest them.
The diffuser has the ability to run for seven hours straight without the need for a refill when the water tank is full.
The PureSpa deluxe essential oil diffuser is able to cover approximately two hundred and fifty square feet. This coverage is dependent on the type of essential oil used in the diffuser. Some essential oils are stronger than others and they can cover larger areas as compared to milder ones.
This diffuser also doubles as a cool mist humidifier. If one wants to use it for this purpose, one can fill the water tank with water and turn it on without putting some drops of an essential oil.
The diffuser has three switches to control its different functions. This allows the user to turn on the diffuser, turn on both the diffuser and the lights and to switch both the diffuser and lights off. For those who wish to sleep without the lights, these options are very useful.
A measuring cup is contained in the package. This is used to ensure that the user does not put in water that exceeds the stated amount.
The diffuser shuts off automatically when the water in the water tank is all used up, ensuring safety to the users.
In order to ensure that the user sleeps without any interruptions, the diffuser does not emit any sounds such as beeping while it is in operation. It is silent save for the soft splashing sounds that come from the water tank. These sounds are very soothing and they hardly affect one's sleep.
The diffuser is quite light and its shipping weight stands at 1.2 pounds. The diffuser comes with a two year warranty. This is a very long warranty period which is an indication of its superior quality.
PureSpa deluxe essential oil diffuser works by mixing water and the essential oil in the water tank to produce a mist with a long lasting scent.
back to menu ↑
PureSpa essential oil diffuser reviews
There are many reviews that have been given by people who have used this diffuser. Some are recommendations such as the removal of the LED lights by some consumers while most of them are positive. Some of the positive reviews include:
Inducing sleep. People who have dealt with problems when it comes to falling asleep say that the diffuser has worked wonders when it comes to helping them relax. The even distribution of the essential oils creates a calming effect on the user and helps one sleep soundly. The lack of noise from the diffuser enables a person to sleep uninterrupted. This is a very common review from the users of this product.
Ease of use. Many are the times that people purchase gadgets whose instructions are so confusing that expert help is needed to use them. This is not the case with thus diffuser. Many users have attested to the fact that the directions given on using thus gadgets are very easy to follow. The gadget has three buttons which are very easy to understand.
Automatic shut off. When the water rubs out, this diffuser shuts itself off. People love this feature as they do not have to be awake to monitor the diffuser. It also shuts off silently, enabling the user to enjoy uninterrupted sleep. Users say that the assurance that comes with knowing that no electrical faults will take place when the tank runs dry enables them to sleep soundly.
Colors. The diffuser has different colors which are displayed in a changing pattern. Users say that the colors create a lively atmosphere.
The user is able to choose between an intermittent mist and a continuous mist.
Ease of cleaning. To clean the diffuser, all one needs to do is to rinse it with clean water and wipe it with a clean cloth.
back to menu ↑
Great purespa essential oil diffusers to use are:
back to menu ↑
Compact Ultrasonic Aromatherapy Diffuser With Ionizer and Color-Changing Light
This diffuser is available in various colors. It is compact and easy to carry around.
ADVANTAGES:
It can diffuse essential oils for up to seven hours. It is able to diffuse 100% of natural oils into the atmosphere.
It can cover an area of two hundred and fifty square feet, which allows the user to be relieved of conditions that can cause symptoms such as colds and allergies.
It helps to get rid of unwanted odors by diffusing the oils evenly into the atmosphere
It is very quiet and can be used even in a child's room.
DISADVANTAGES:
It has only 4 colors and there is no option to select only one
You might need to feel it with purified water to avoid clogging
This one would be perfect household aid of you have to battle with outdoor smells, like cigartette smoke or cooking odors.
Purchase This Product on Amazon back to menu ↑
PureSpa Deluxe Ultrasonic Aromatherapy Oil Diffuser — High Capacity Aroma Diffuser
This diffuser can last up to ten hours and it automatically shuts off when the water tank is empty, making it safe for both home and office use. It has a 2-year warranty and it has a really pleasant design.
ADVANTAGES:
It is available in various colors, allowing one to choose the color that blends in with one's décor
It releases a cool mist in the air and this makes it a great alternative to using synthetic air fresheners. The aroma covers up to two hundred and fifty square feet such that it can waft into all the rooms, creating a fresh environment.
Its water tank can hold up to 120 ml of water which allows it to run for ten hours and saves one the trouble of refilling after a few hours have gone by
DISADVANTAGES:
The on/off button is a pressure sensitive one, and it doesn't always respond to the touch at the first go
It does produce a little amount of noise, which is not too bad, but still can be irritating
Purchase This Product on Amazon
back to menu ↑
PureSpa Natural Aromatherapy Oil Diffuser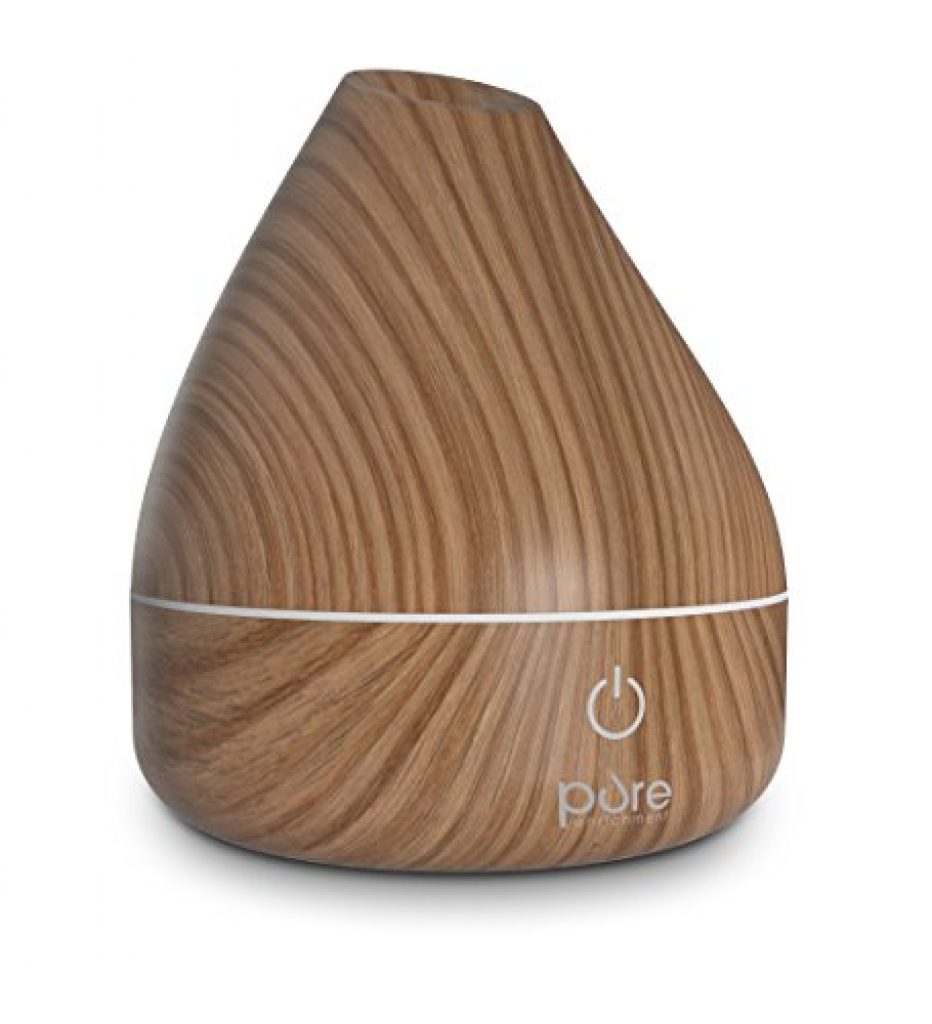 This diffuser is equipped with a two hundred millimeters water tank and soft changing lights. The PureSpa deluxe essential oil diffuser is compact, allowing the user to carry it around and it enables one to sleep soundly, void of interruptions from the diffuser. All that one is required to do is to put a few drops of an essential oil in the water tank of the diffuser, sit back and relax as the lovely aroma wafts into the atmosphere. It is definitely worth the bargain!
ADVANTAGES:
It has wood accents that give the diffuser an elegant look. The changing lights are also optional allowing one to choose when to have them on
Due to its big water tank, this diffuser can run up to ten hours without the need to be refilled
It has an automatic shut off system for when the water tank is empty, gets rid of unwanted scents in the room and covers an area of two hundred and fifty square feet.
DISADVANTAGES:
It might be tricky to get the right amount of oils into the diffuser
It takes more time to clean
You would need a greater amount of essential oils
Purchase This Product on Amazon