You can't imagine how much of a difference essential oils can make in every aspect of your life. You can use them for cleaning, to relax after a hard day of work, or even to find that little moment of peace and tranquility you need to balance your mind. An essential oil diffuser necklace can improve your mood, uplifting your spirits. And the best part is that you can take it with you on the go and wear it anywhere, even when travelling! It's unlike anything you have ever seen on traditional market stores, and it is becoming more popular than ever.
Table of contents
Essential oil diffuser necklaces
These necklaces are portable, reusable, aesthetically pleasing, unique and age appropriate, blending perfectly with your lifestyle and personal fashion. There are many brands and shapes to choose from, so it's important to understand the quality and origin of the one you're acquiring. Certain types of materials don't respond well to essential oils, so the necklace becomes stained and old-looking very quickly. Stainless steel is the best option if you want a long-lasting, polished and shiny accessory, avoiding irritated skin and allergies. The better (and cheaper) option would be, in many cases, to make one on your own! If you like that idea, please keep reading, as I've included a very short and simple tutorial on how you can make your very own essential oil diffuser necklace. But first, a bit of context on Aromatherapy and the power of essential oils.
So, how can you integrate the benefits of essential oils into your life in the most stylish way possible?
back to menu ↑
Rose Gold Tree of Life Necklace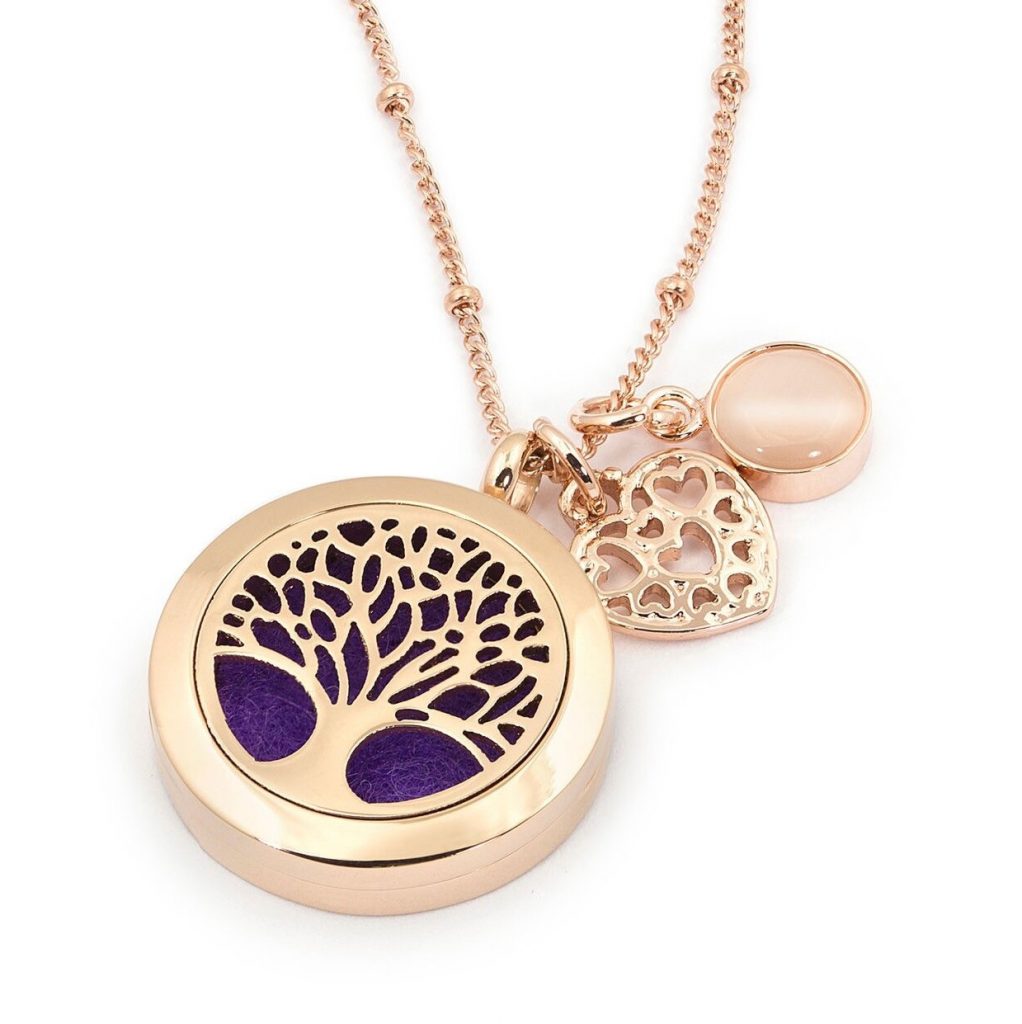 A top quality, stainless steel pendant with space for essential oil pads. The steel is hypoallergenic and used by top jewellery manufacturers, so this necklace will last you for a lifetime, providing daily aromatherapy in perfect condition. The unique design will make you the center of attentions regardless of the situation, while the nine micro-weave, washable and reusable diffuser pads have a strong absorbance capacity, lasting all day. A gorgeous velvet bag for storage is also included.
back to menu ↑
Owl Lava Stone Aromatherapy Essential Oil Diffuser Necklace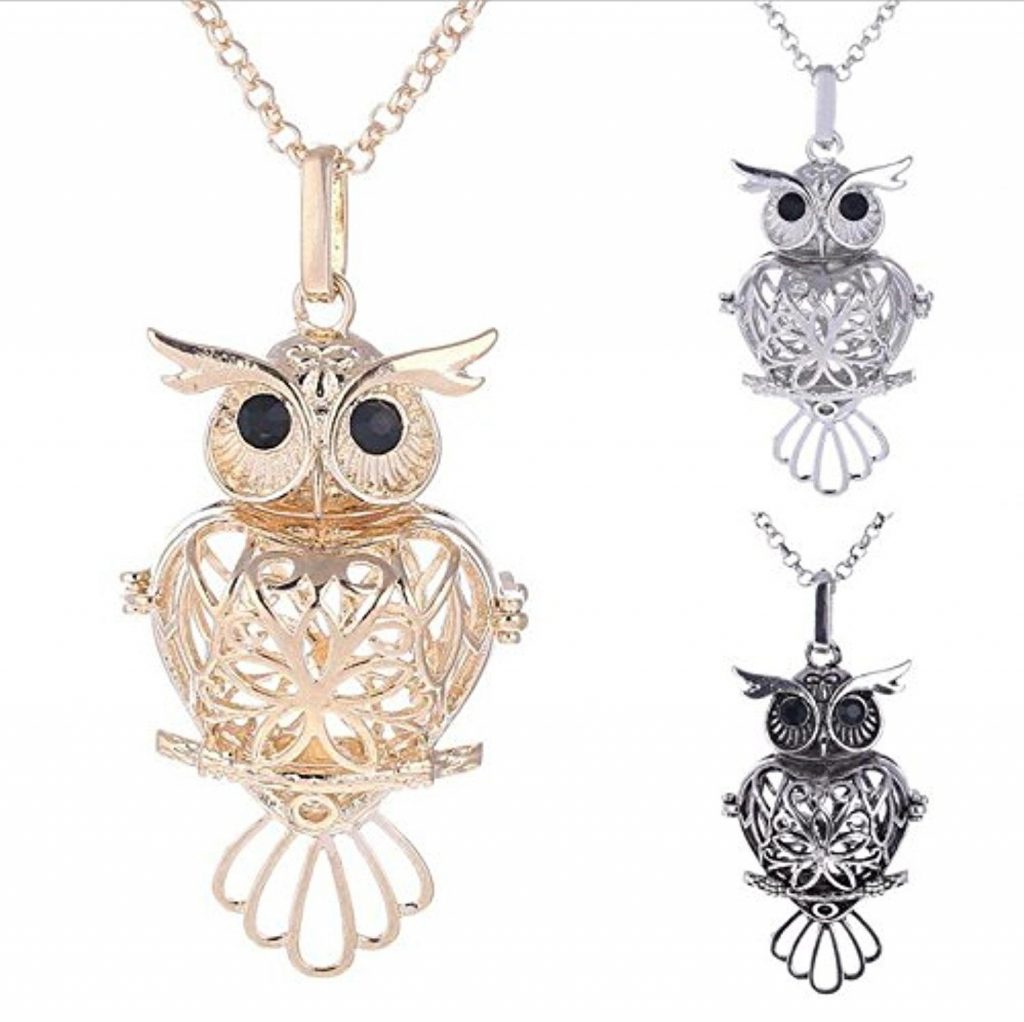 The owl shaped cage is the perfect size to hold a multi-coloured lava stone, and is also high quality, reusable and portable. It's cute design is sure to stand out, allowing you to bring your favourite scents on the go. The necklace comes with 7 natural lava stones in different colours, but if you ever run out of stones, you can order replacements online, easily and cheaply.
Both of these necklaces are a sleek option to complement your personal style, satisfy your aromatherapeutical needs and make for great gifts for your loved ones. If you are the artsy type and prefer something more customisable, you can always create your very own necklace following the instructions bellow.
back to menu ↑
Make Your Own essential oil diffuser necklace!
Essential oils are usually available individually (you can select a scent du jour for your necklace) or formulated, blending more than one scent, in formats such as roll-ons, to ease the application, sultry massage oils, air diffusers, travel kits and sets as well as lavish collections you can offer as gifts.
You can even create your own essential oil mixture at home using information available in books and online. For the most artistically inclined, you can even make your own DIY essential oil diffuser necklace following various online tutorials. These are extremely easy and cheap to make, even if you're not a very crafty person.
Here's what you'll need:
Stainless steel cage / Clay pendant
Metal chain / Ribbon or string
Lava beads / Wool balls (to hold the essential oil)
Glue (optional)
Instructions:
Attach the lava bead / wool ball to the clay pendant, or put it inside the steel cage
Slide the chain through the steel cage or attach the string/ribbon to the pendant (using glue or a knot)
Apply 1-2 drops of essential oil in the lava bead / wool ball, reapplying when needed.
Et voilá! In less than 10 minutes and for less than 5 dollars, you now have your own essential oil diffuser necklace!
back to menu ↑
Medical Benefits of Aromatherapy
This form of alternative medicine has been gaining popularity since the 1980's, not only because of its healing properties and inherent creativity but also due to its ability to increase cerebral awareness. The awakening of the limbic system, which include the most primitive, basic and meaningful structures of your brain, will allow you to control your emotional health and your response to the environment and day to day frustrations. It's also important for learning new concepts, overall psychological development and to retain important memories, as sensory inputs play a key role in remembering. You'll also have an easier time regulating your appetite keeping your weight in check, managing stress and blood pressure levels and improving your sexual pleasure, heightening the feelings of sensuality for your significant other. This gift of nature is not completely understood yet, but a wide range of health professionals are experienced in aromatherapy – it is important to talk with your doctor to see if aromatherapy is helpful for your specific health concerns or mental condition.
back to menu ↑
Conclusion
Many scented products are now being sold as aromatherapeutic, but most of them have synthetic properties. With essential oils, you can stimulate your brain with no drawbacks and, by combining their power with a personalised necklace, you can experience all their benefits in a fashionable yet practical format.