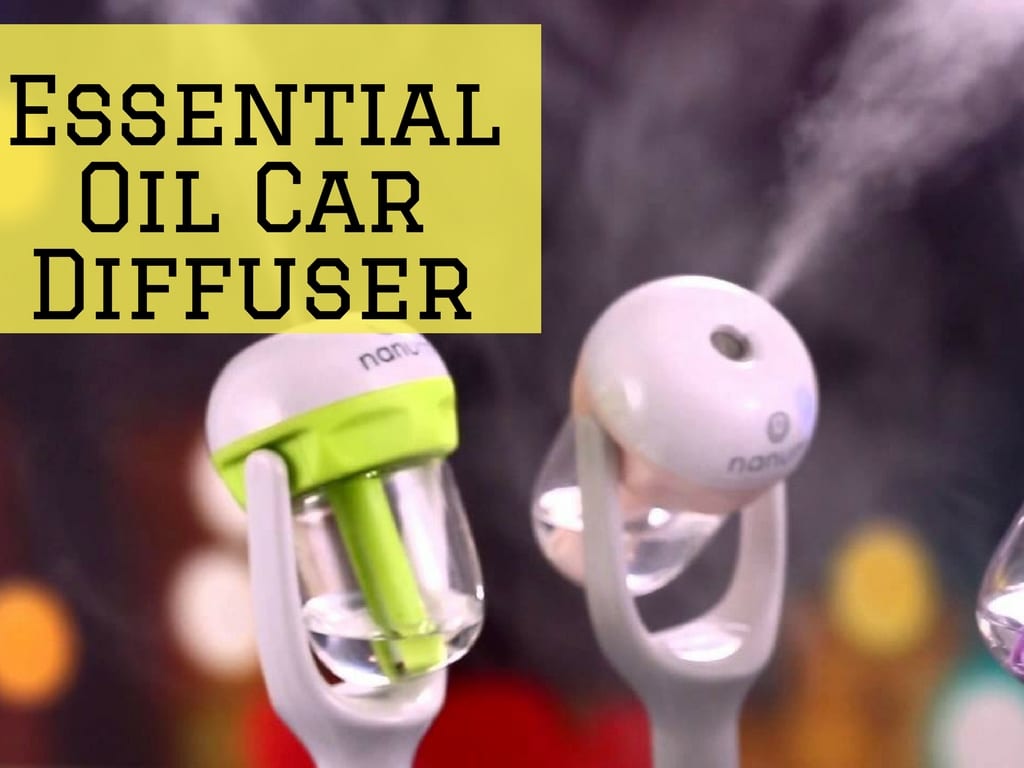 People spend a lot of time in their cars commuting from place to place. Much of that time may be spent feeling irritated or angry especially if one is stuck in a traffic snarl up. To avoid such feelings of irritation, people often opt to listen to music in an attempt to keep themselves busy as they keep irritation at bay. How about when one is not in the mood to listen to music or play games in the car? What then? How about considering the use of an essential oil diffuser for car?
Table of contents
Types of essential oil car diffusers
When one wants to use essential oil car diffusers, one can either go for the electronic diffusers in the shop or one can opt to use DIY essential oil car diffusers.
back to menu ↑
Electronic diffusers
These come in different colors, shapes and sizes. They work through a combination of parts in them such as the motor which enables the diffuser to spray the oil into the air. One is required to plug them into the car for them to work. The advantage of using these types of diffusers is that the oil is spread evenly throughout the car. One can control how much oil is spread in the car by limiting the plugging in. They rotate at angles to spread the oil which enables even distribution. They also work as toys to keep children busy as the driver goes on about his or her business. One should avoid the use of greasy oils when using these diffusers to avoid clogging the working parts.
How to choose an electronic essential oil car diffuser
Type of diffuser. The best types to use are nebulic and ultrasonic. Nebulic diffusers work by releasing undiluted oil into the car whereas ultrasonic release a mist of both oil and water. These types ensure an even distribution of the oil in the car.
Tank capacity. A greater capacity is preferred as it enables the diffuser to work for longer periods without the need for a refill.
Quality of material. One should go for a diffuser made if high quality material as it will last for a long time.
Examples of great electronic essential oil car diffusers are the aromatherapy car essential diffuser humidifier and the essential lite mist aromatherapy diffuser which can both be found at Amazon at reasonable prices.
back to menu ↑
DIY essential oil car diffusers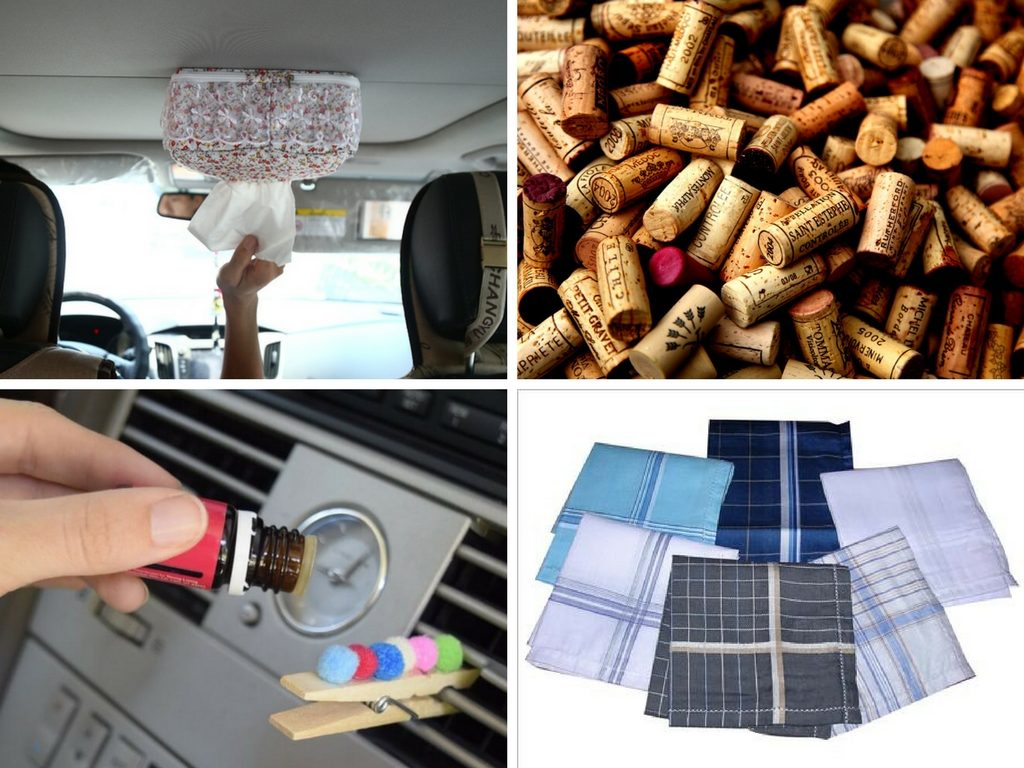 One can make their own diffuser. A simple method is that of putting a few drops of an essential oil on a tissue and placing it inside the car. One could also make a replica of felt car air fresheners and fill it with an essential oil. People also use corks in their cars dipped in essential oils.
There are many diffusers on the market, here are some of the best ones selected for you, so that you wouldn't get lost!
back to menu ↑
CarZen ultrasonic essential oil car diffuser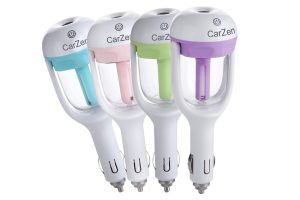 Available in various colors, this diffuser also doubles as a humidifier which is great for when one just wishes to have a cool mist in the car's atmosphere. It works by rotating at one hundred and eighty degrees, thereby keeping the mist out of your face and instead directing it towards the car's interior. In this way, pollutants such as dust are kept at bay as the essential oils are diffused into the air. To use it, unscrew the water tank, put water in the water tank, add a few drops of an essential oil, screw the tank, plug the diffuser into the charging or cigarette port and turn it on to enjoy the benefits. Essential oils are not included in the package.
ADVANTAGES:
Provides humidity in the car. During the warm seasons, the car's interior is likely to get heated up, making the people inside it uncomfortable. This diffuser provides a cool mist to curb the effects of the heat which makes long trips bearable in hot weather.
Two hours running time. The water tank in the diffuser can hold up to fifty millimeters of water which enables it to run uninterrupted for two hours when the tank is full.
DISADVANTAGES:
This diffuser does not work well with heavy oils as it can get clogged up.
With time, the sponge in the diffuser becomes thin. As a result of this, the user has to replace the sponge from time to time, thus incurring extra costs.
One has to use distilled water in the water tank as tap water can cause mineral build up in the tank.
Purchase This Product on Amazon
back to menu ↑
Arospa essential oils car diffuser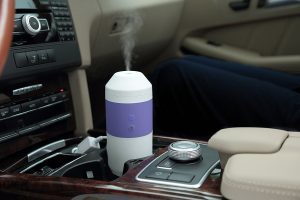 This bottle-shaped diffuser also works as a humidifier and an air purifier. Given its small size, this diffuser can be used anywhere with ease.
ADVANTAGES:
One can opt to have either a continuous mist or an intermittent mist.
Automatic shut off. This diffuser automatically shuts itself off when the water tank is empty, preventing electrical faults from occurring.
The diffuser is made of durable plastic to ensure that it serves the user for a long period.
The diffuser can run for long periods depending on the option chosen by the user. A low mist with intervals can last for up to three and a half hours.
It has a thirty day return policy.
DISADVANTAGES:
It cannot work with some hot essential oils such as cinnamon and cloves.
The use of tap water can lead to a mineral build up in the water tank.
Purchase This Product on Amazon
back to menu ↑
Aiho essential portable car diffuser
This small diffuser is filled with numerous benefits, not to mention being easy on your pockets.
ADVANTAGES:
It uses an ultrasonic system of diffusing oils into the air, making it very effective.
Monitoring of the water levels in the tank is easy as one can see through the tank's surface.
It automatically shuts off when the water levels are low in the tank.
It has seven different lights which indicate different modes of operation.
It has three timer levels i.e. thirty minutes, sixty minutes, one hundred and twenty minutes.
DISADVANTAGES:
The only disadvantages that this diffuser could pose to the user is the limitation of oils to use as well as the need for refills when on a long trip due to the small water tank.
Purchase This Product on Amazon
back to menu ↑
Aromatherapy Car Essential Oil Diffuser Humidifier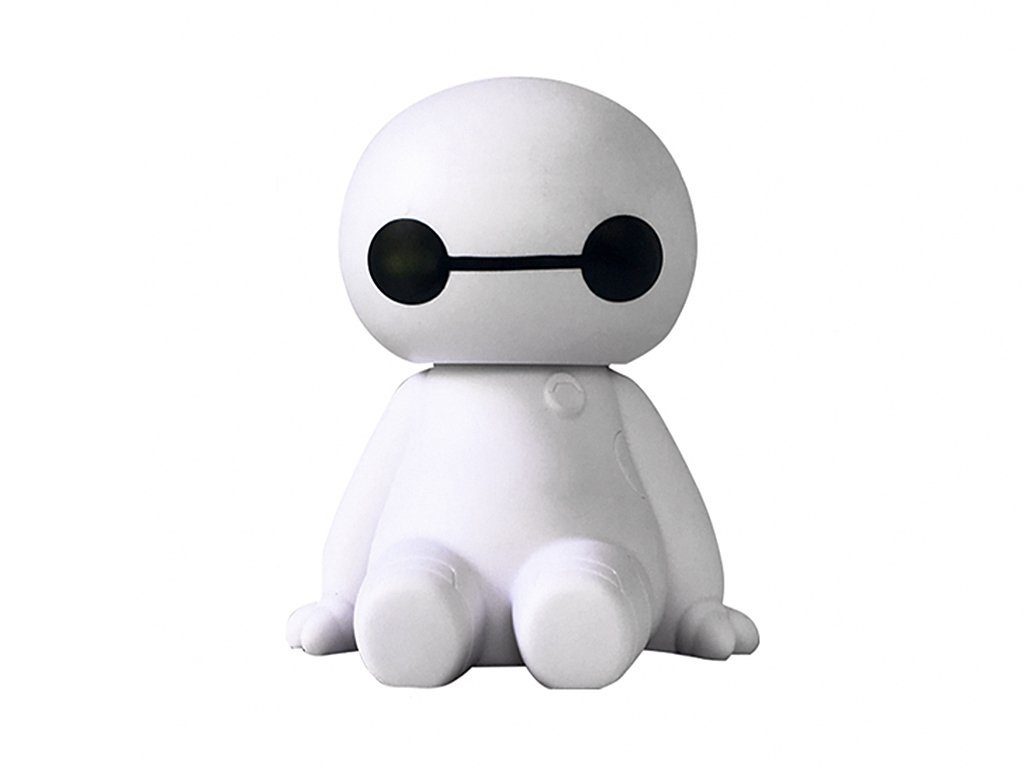 Not only is this diffuser cheap, but it is also very attractive and thus is a nice addition to the car.
ADVANTAGES:
It is available in many colors.
It uses an ultrasonic system.
DISADVANTAGES:
One cannot use greasy oils as this can clog up the ultrasonic system.
back to menu ↑
How to choose an essential oil for your essential oil car diffuser
Most people would opt to have their favorite fragrances in their cars. However, it is not advisable to do so as some car essential oils may have negative effects on the users. Some have been shown to cause so much relaxation to the extent that the driver gets sleepy, posing a grave danger to other road users. Examples of essential oils to avoid using while driving include chamomile and lavender. Other smells make people hyperactive which can cause the driver to exceed the stipulated speed limits and in some cases, cause road rage. The right essential oils should have a calming effect on the driver while increasing the driver's alertness.
Great essential oils to use in an essential oil car diffuser include but are not limited to lemon, peppermint, wild orange, grapefruit, mandarin, rosemary, lemongrass, basil, cinnamon, coffee and ginger.
Essential oil car diffusers go a long way in helping drivers stay alert while on the road by emitting essential oils into the car's atmosphere. These oils work by relaxing the driver and relieving him or her of fatigue, enabling the driver to stay calm while driving.
Studies show that the use of essential oils while in the car can have aromatherapy effects on our bodies. The effects are both physical and mental. These oils work wonders by lowering one's stresses levels while increasing one's concentration and alertness. This means that one should not fear the use of these essential oils as they do not pose a danger to other road users.