Psoriasis is a common non-contagious skin condition characterized by red, thick, scaly patches of different shapes and sizes. The condition is not fatal, but it can cause severe disfigurement and discomfort for you. It starts with a little redness on the knees, face, and elbows.Afterward, you may feel the urge to rub or scratch the affected areas.
This is the second most popular skin disorder in the world. It can lead to discomfiture, resulting in gradual suffering of the patient.Luckily, the treatment of this skin condition doesn't have to be limited to prescribed medicine. Over the years, treatment with essential oils for psoriasis proved to be an effective alternative.
Causes & Symptoms
The actual cause of psoriasis is still unknown. It is likely the disease can occur only in people with a specific genetic composition. Psoriasis is not caused by a default in one gene since several have been identified. Research links the condition with the body's ability to appropriately use fat and create essential breakdown products. Your body requires the breakdown products of fat to lubricate the skin and provide you with energy. The body needs to make the right amount of hormones to fight inflammation and boost the immune system.
Your skin suffers when your body does not produce enough of the proper hormones. The disease strikes people between fifteen and thirty-five years, and even young children are affected shortly after birth. There is a very high tendency for the condition to be shared among blood relatives. Usually, rapid skin growth and inflammation cause the skin changes that lead to psoriasis. The trigger for the rapid skin growth and inflammation remains unclear. Active research is ongoing to identify these events. The following are the most common symptoms:
Scaly patches on the skin with red borders
Itching and burning eyes
Pitted fingernails and toenails
Cracked skin, itchy skin, and pustules
Listlessness and tiredness
How to Use oils for Psoriasis
Essential oils are extracted from plants and herbs. They can treat skin inflammation, get rid of scarring, smooth wrinkles and lessen skin flaws (sunburn, staining & irritation). You can add essential oils to carrier oils, moisturizers or creams and apply to the affected areas. You can directly use aromatherapy to treat psoriasis. Indication for essential oils treatment is healing symptoms of psoriasis. Treatments regularly employ multiple oils, such as thyme, sandalwood, chamomile, tea tree, helichrysum, geranium, juniper, and lavender oils among others.
The first step in using essential oils for psoriasis is to do a patch test. This test is important because some of the oils can cause skin irritation, skin sensitization, and allergy. A number of reactions indicate sensitization from an exposure. To do the test, dilute two drops of an essential oil in one teaspoon of carrier oil. Apply a small amount of the blend to the inside curve of your elbow and leave on for twenty-four hours without washing. Observe the area for any allergic reaction/ sensitivity, such as itchiness, rash, redness, bumps and pain.
You should not use a given essential oil if you develop any of the stated symptoms. If after the test you do not experience any symptoms, then it is safe to continue using the essential oil. Though, your skin can change over the course of time for different reasons.
If you believe beyond reasonable doubt that you have an allergic reaction to an essential oil, stop using it and consult a herbalist or an aromatherapy specialist
The second step needs you to create an essential oil blend. This involves mixing two or more oils for psoriasis. What a blend does is combine the healing properties of more than one ingredient. Select at least two oils that can manage the disorder. For instance, you can choose patchouli, lavender and tea tree oils. In a dark, airtight glass bottle, add 30 drops of tea tree oil, 20 drops of lavender oil and 10 drops of patchouli oil. Rub the mixture on the affected areas.
Create an aromatherapy bath by dissolving 12 drops of psoriasis treatment blend in warm bath water. Then add one tablespoon of baking soda to help ease the itchiness. Prepare a healing bath gel by adding 50 drops of psoriasis blend to 8 ounces of fragrance-free bath gel. Add 20 drops of a healing blend to 3 ounces of distilled water and spray the mixture on your towel. Then wrap the towel around your body for twenty minutes before unwrapping. In addition, you can prepare a body compress by adding 25 drops of a psoriasis blend to 4 ounces of warm water. Soak a bath cloth and use it to wipe the affected areas.
Essential Oils for Psoriasis
Thyme Essential Oil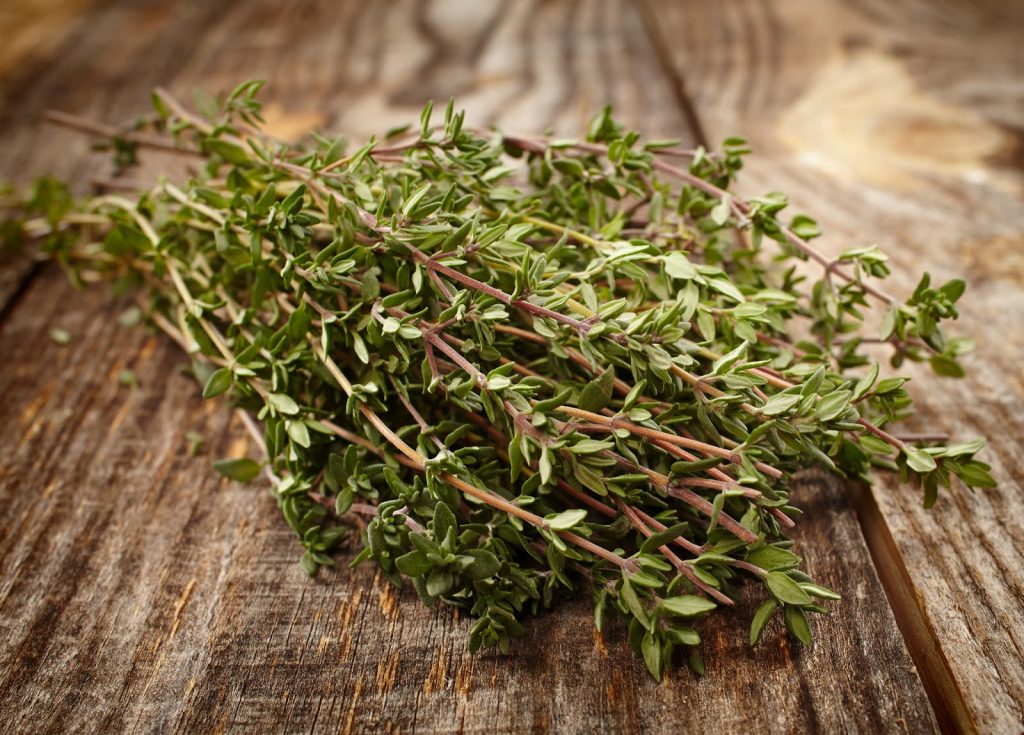 The main element of thyme oil is thymol, which has antiseptic and fungicidal qualities. This makes the oil useful for psoriasis treatment. Research suggests that thyme oil is twenty-five times more antiseptic than hydrogen peroxide, making it one of the finest disinfectants for managing psoriasis. Add a few drops of the oil in your bath water for disinfection that will also give you courage and strength. You are advised to conduct a patch test in order to make sure you are not allergic. Pregnant women and people with high blood pressure should be cautious when using this oil.
Lavender Essential Oil
The essential oil of lavender is antiseptic, calming, anti-inflammatory, antibacterial, antifungal, antispasmodic and analgesic. These qualities help in relieving stress, anxiety, and itching. Its anti-inflammatory and calming qualities are quick to heal as well as restore damaged skin. It also soothes bruises and burns. The oil is considered safe to apply undiluted, but some people can suffer skin irritation, vomiting, nausea, headaches, chills, and allergy symptoms. Therefore, it is important to carry out a patch test before using lavender oil on your skin. As lavender oil has a relaxing effect, it can increase drowsiness when used together with sedatives.
Geranium Essential Oil
Geranium oil is antiseptic, antibacterial, anti-inflammatory, tonic, cell growth, astringent, vasoconstrictor and analgesic. The oil helps recycle dead skin cells and promote the regeneration of new skin cells. It helps in vanishing spots and scars of psoriasis. Its antibacterial effects prevent bacterial growth on the red, inflamed scars. You have to dilute the oil with an equal proportion of carrier oil before topical application on the skin. However, it is ideal for a bath and it can be directly ingested or inhaled as a dietary supplement. Pregnant women should avoid geranium oil as it can cause skin irritation.
Sandalwood Essential Oil
This natural oil is antiseptic, calming, tonic, astringent, antiviral and immune stimulant. Its moisturizing and calming abilities help to calm and soften the skin around the affected areas. It produces normal tone in skin muscles/ tissue and it constricts soft tissue to heal scars and wrinkles. Yet safe and generally non-irritating, sandalwood oil should be diluted before topical application. Your skin might be sensitive to sandalwood oil and can produce allergic reactions. Therefore, you should do a patch test before using it on your skin. Pregnant women should avoid this oil.
Tea Tree Essential Oil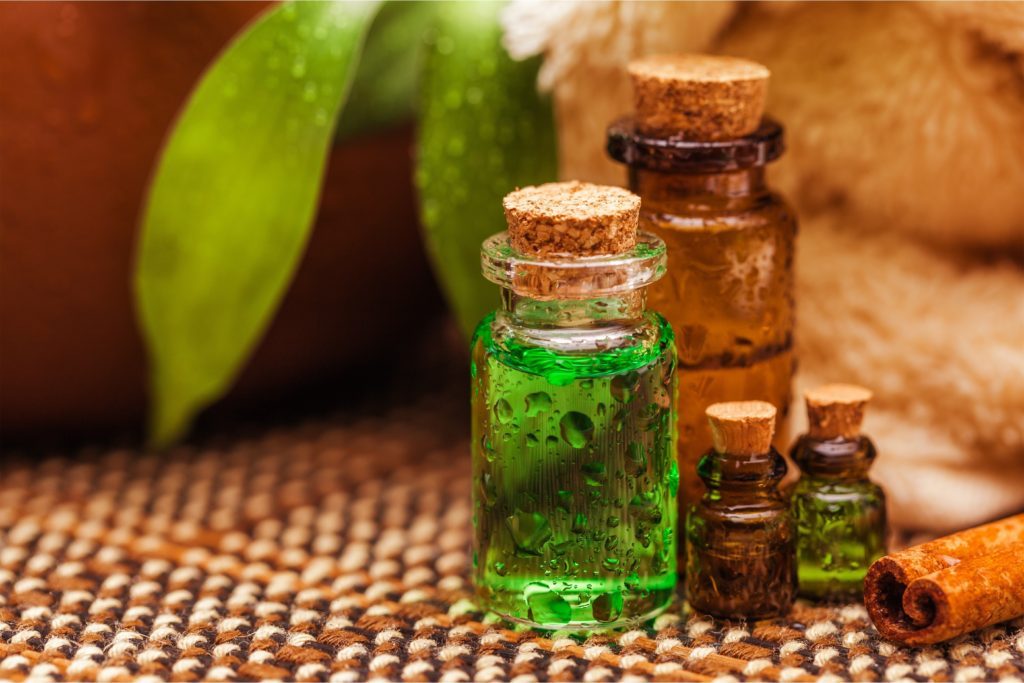 The oil is widely known for its medicinal, woody, fresh, herbaceous aroma. It is antiseptic, stimulant, antibacterial, antimicrobial and fungicide. It is known to boost the immune system and it is one of the best proactive agents for skin conditions, such as psoriasis. Contact sensitization is a common problem with this essential oil. Therefore, avoid using it neat on the skin. Always do a patch test before topical application, and you should exercise extreme caution with children younger than six years.
Eucalyptus Essential Oil
This oil is antiseptic, anti-inflammatory, anti-infectious, anti-aging, deodorant and antibacterial. Eucalyptus oil increases blood oxygen supply so that more nutrients and oxygen can be delivered to cells throughout the body, and it stimulates the regeneration of damaged skin tissue. When used in a hot bath, the oil cleanses and calms the scaly, inflamed patches on the skin. You must dilute this oil before topical application. Mix equal number of drops of eucalyptus oil and carrier oil before using on the skin.
Peppermint Essential Oil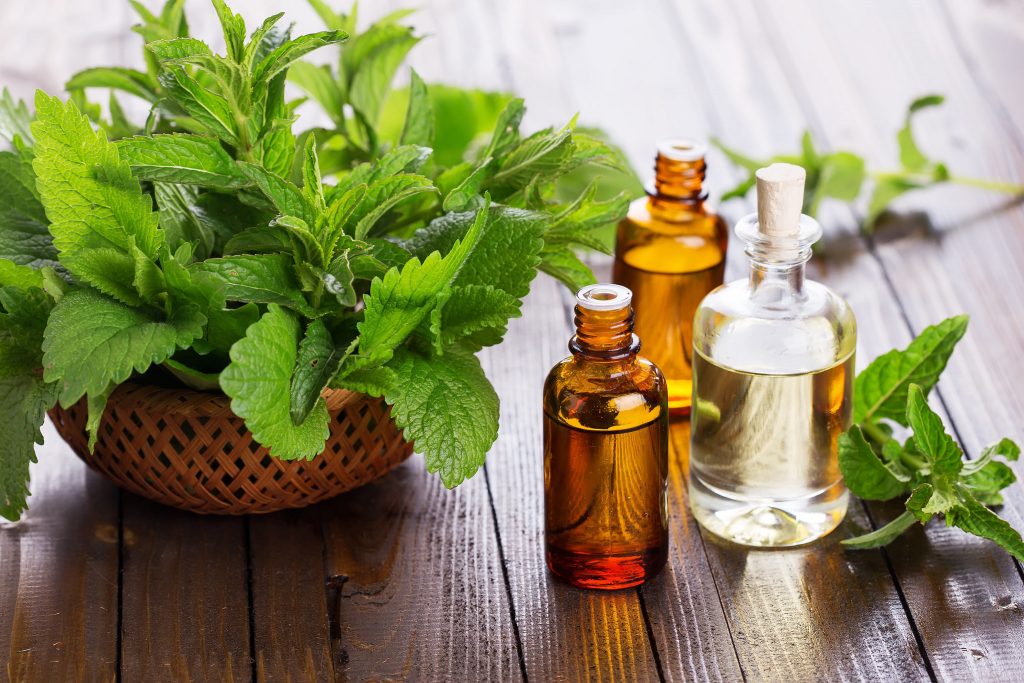 This is one of the most resourceful and least expensive essential oil for psoriasis. It is anti-inflammatory, anticarcinogenic, antibacterial, antispasmodic, antiviral and analgesic. It fights bacterial infection and reduces the pain due to inflammation. It stimulates circulation and helps invigorate dull dry skin. The oil leaves the skin feeling soft. It constricts capillaries and minimizes the redness of broken capillaries caused by psoriasis. Peppermint oil can elevate blood pressure. Therefore, you should avoid using it if you have high blood pressure. It may irritate sensitive skin, so conduct a patch test before topical application.
Chamomile Essential Oil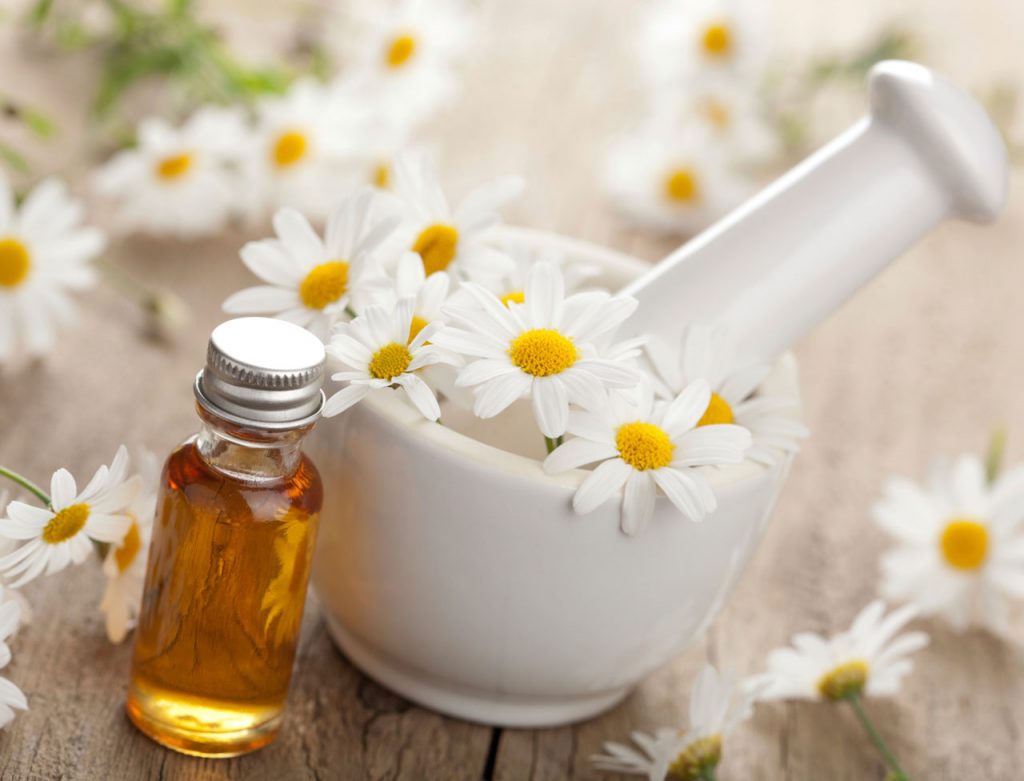 Chamomile oil is soothing, toning, anti-inflammatory and anti-infectious. It reduces any kind of inflammation, making it the best psoriasis treatment. It fights irritations and infections and speeds up the healing process of damaged skin. The oil relieves swollen/ overexerted muscles, inflamed tendons and bruises caused by psoriasis. It soothes inflamed joints and muscle pain and minimizes the distress of inflamed skin.
Helichrysum Essential Oil
Helichrysum oil is the best treatment for any skin disease because of its ability to regulate blood flow, balance energy, fight bacterial infection and ease inflammation. It is very helpful in treating skin inflammation due to psoriasis. Mature skin responds effectively to helichrysum oil restorative qualities and it eliminates scars and skin discolorations. It has virtually unlimited value in treating symptoms of psoriasis and other skin disorders. It improves the redness, puffiness, scaling and itching of the skin. It is safe to use neat for diffusion, but you should dilute it with carrier oil for topical application.
Essential Oils Recipes for Psoriasis
Recipe #1: Psoriasis Skin Oil
Ingredients:
2 drops of neroli essential oil
2 drops of helichrysum essential oil
3 drops of chamomile essential oil
4 drops of bergamot essential oil
10 drops of borage oil
½ ounce of hemp oil
½ ounce of flaxseed oil
1 ounce of jojoba oil
Directions: Mix the carrier oils in a clean, dark-colored glass bottle. Add the essential oils and gently turn the bottle upside down to blend. Apply the mixture to the affected areas as required. Bergamot oil increases sensitivity to the sun. Therefore, omit it from your blend if you will expose your skin to sunlight. As this recipe is suitable for the treatment of eczema.
Recipe #2: DIY Psoriasis Massage Blend
Ingredients:
½ cup of sweet almond oil
10 drops of niaouli essential oil
10 drops of thyme essential oil
10 drops of bergamot essential oil
15 drops of tea tree essential oil
30 drops of evening primrose oil
30 drops of borage seed oil
Directions: In a clean, dark-colored glass bottle, add carrier oils followed by essential oils. Then shake the bottle gently to mix. Add one teaspoon of the blend to your bath water. Soak in the bath water for thirty minutes.
Recipe #3: Scalp Massage Oil
Ingredients:
2 drops of chamomile essential oil
2 drops of lavender essential oil
1 teaspoon of coconut oil
Directions: Mix the essential oils for scalp psoriasis and coconut oil together in a clean, dark-colored glass bottle. Shake well to mix the ingredients. Use the blend to massage your scalp.
Recipe #4: Psoriasis Treatment Blend
Ingredients:
9 drops of bergamot essential oil
1 drop of ylang-ylang essential oil
3 drops of mandarin essential oil
11 drops of lavender essential oil
1 drop of clary sage essential oil
10 drops of geranium essential oil
10 drops of frankincense essential oil
4 drops of patchouli essential oil
6 tablespoons of coconut oil
Directions: In a clean, dark-colored, airtight glass bottle, mix together the essential oils and carrier oil. Gently turn the bottle upside down to blend. Apply the mixture to the affected parts of the body twice daily.
Recipe #5: Symptomatic Relief Blend
Ingredients:
4 drops of bay essential oil
5 drops of geranium essential oil
5 drops of carrot seed essential oil
20 drops of lavender essential oil
4 ounces of vitamin E cream
1 teaspoon of castor oil
Directions: Mix the essential oils and castor oil in a clean glass bottle and shake. Then mix together the oil mixture and vitamin E cream. Apply the resulting blend on the affected parts.
Essential oils for psoriasis is a great alternative to conventional medicinal treatment. However, you should be very careful when using them, since some of the oils are very strong. Always remember to do a patch test before application, don't continue the treatment if you feel your skin is irritated by the oils, and, by all means, do consult a doctor if you the natural treatments fails to be effective.
Sources and References